Canon has had the great opportunity to publish two terrific new titles, A Welcome Shore by current Canon author Suzanne Rhodes and Through the Veil by new author Lisa Ohlen Harris.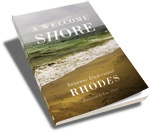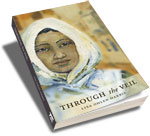 The first book, A Welcome Shore is a skillfully crafted collection of prose poems presenting a series of reflective essays on life, loss, and new life. Well known Christian poet Luci Shaw had this to say:
From the Foreword:
It is an ongoing wonder when a writer is able to infuse her prose with such poetic quality and tenderness that each piece becomes a poem in itself. Suzanne Rhodes has this magical facility of seeing to the heart of things, so that in her brief narratives each little hook for the imagination is a small pixel that adds to the whole and, in an obervation, makes of complexity a simplicity that sticks in one's mind. She paints color and texture with words so that it all adds up to such a truth that I wonder why I hadn't come to the same conclusion on my own, in a similar circumstance.
This is a terrific book and helps one recognize much of the beauty around us, putting many things in perspective.
The second book, Through the Veil, is another new book we're very excited about. It follows an American ethnographer, Lisa Ohlen Harris, during her years living in Syria & Jordan. In it she captures a wealth of experiences from her interactions with various people in a culture that is really quite different from ours.
Captivating. "Through" is the operative word in Through the Veil as Lisa Ohlen Harris—with curiosity and compassion—chronicles her unique contact with women of the Middle East. Beautifully orchestrated with honesty, insight, and humor, this book penetrates another culture and, at the same time, helps us understand what it is to be American, in the best sense of that word.
—Judith Kitchen, author of Distance & Direction
Both of these new books exhibit great insight into the complexity of humanity and the sheer gloriousness of it. We hope that you will not only enjoy the moving poetry and prose but that they will help increase your sense of wonder at the world around us.
Related Link:
http://imagejournal.org/imageupdate/198_100721.html